 Sephardic Temple's programs for young professionals in their 20's and 30's
The sky is the limit …הַשָּׁמַיִם הֵם הַגְּבוּל
The primary goal of Shamayim is to open doors for the young Sephardic generation in Los Angeles. Our temple is known to preserve deep Sephardic traditions. Shamayim seeks to combine those traditions with a modern and intimate approach, creating a relaxed environment for young community members to unite, get to know one another and explore their spirituality. Our flagship program is a monthly, uplifting Shabbat service followed by Kiddush and brunch (generally on the second Shabbat of each month). Additional social, spiritual and networking events will be announced and held an on ongoing basis. Shamayim programs are open to everyone in the community that are in their 20's and 30's. Active STTI membership is NOT required.
A modern Shabbat service, followed by Kiddush and brunch for young professionals in their 20's and 30's.
Shamayim Shabbat & Brunch will occur once a month (generally on the second Shabbat of the month).
Please see the events schedule for upcoming dates and to RSVP.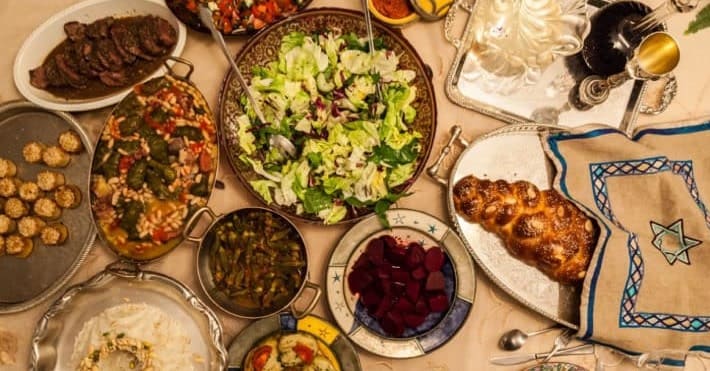 Shamayim Shabbat and Brunch
9:30 AM Candiotty chapel
Following the Shabbat Service, the crew will gather together with Rabbi Tal Sessler in Tiano Plaza and Labe Gardens for Kiddush and a group lunch. This will be an informal gathering where, with the help of good food and drink, we can socialize and get to know each other. Special guest to be announced.
Please see the calendar below for event dates and to RSVP.
RSVPs are encouraged but not required.
Please sign up for announcements and events. We also encourage everyone to become involved with the Shamayim program planning committee. If you would like to Sponsor a Shabbat Kiddush, help organize sessions, promote events, participate in services, or request an Aliyah, please send us a note and specify what area you would like to participate in. The Shamayim planning committee would also like to hear any feedback and ideas.