Hebrew School classes at The Levy Library
– week ending June 1, 2023

Dear Parents,
This was the last week of Hebrew School and it was sad to say goodbye, but I'm sure all the children are looking forward to the summer!
On Tuesday I read Kindergarten and 1st grade one of my favorite stories, Could Anything Be Worse? There are many variants of this Yiddish folktale about a man who, distraught because there is such chaos in his small house, goes to the rabbi for help. First the rabbi tells him to bring some chickens inside. Then a cow. And so on. Finally the rabbi advises the man to remove the chickens, etc. And suddenly the household is very peaceful! For a modern update of this story, ask me for Terrible, Terrible!, in which a blended family feels too crowded in their little house and one of the children consults the rabbi. Then the rabbi tells them to bring in all the bicycles…but you know what happens next. When talking about this story with your children, ask how they would recreate the story in your home; that is, what they would bring into it to make it seem smaller…but don't do it! This is also a great jumping-off point for problem solving. Together identify a problem and decide how you might fix it – with or without the help of a rabbi.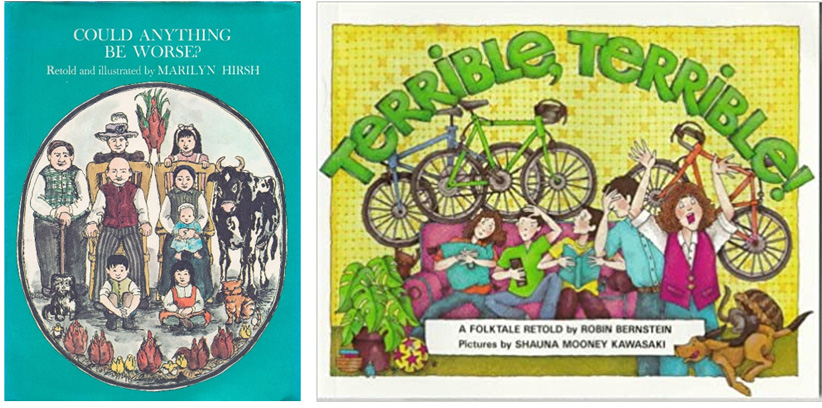 On Thursday there wasn't time for the classes to visit the library, but at the Hebrew School goodbye party I sent the children home with a Summer Reading Bingo sheet and a Jewish American Heritage Month bookmark. (K and 1st grade received theirs on Tuesday.) If the Summer Reading Bingo sheet didn't make it home, you can download it from the publisher: https://www.beamingbooks.com/resources/. This is an enjoyable way to encourage children to keep reading and prevent "summer slide" – the learning loss that can happen when children are out of school for an extended period of time. You can adapt the activities for any age. Of course I recommend that you use Jewish books, but other books will do, too!
Happy reading, Chag Sameach, and Shabbat Shalom!
Your librarian, Annette ()