1931
Building of the first Sephardic synagogue in Los Angeles at Santa Barbara Avenue. The temple was dedicated on February 12, 1932. It was a lovely California style building in cream color stucco with an interior that followed the classic Sephardic design. The tevah or reader's desk was in the center of the sanctuary. It faced the Ehal (ark) and the worshipers sat along side one another both women and men together so as not to separate families. As Rabbi Ott would later describe, "the congregants face each other instead of seeing the back of the necks of the people sitting in front. The rabbi isn't the center of the service. The Torah is and the community sees itself around it."
1970
Historic groundbreaking for the Wilshire Boulevard temple that is the current synagogue building we use today. Plans for the architecture were carefully considered, and finally it was agreed that the temple should be made of stones, to look like the stones of Jerusalem. It was to be built in the style of the Old City of Jerusalem. The resulting building, the only one of its style, stands impressively on the city's major boulevard. By this time the congregation had over 600 members.
1987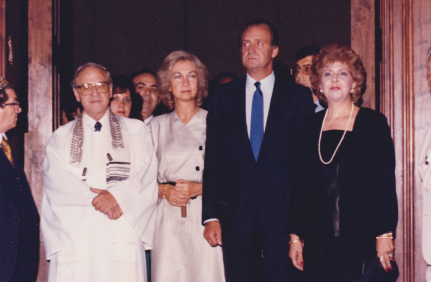 King Juan Carlos I and Queen Sofia of Spain were greeted on the steps of the temple by Rabbi Ott, Dr. Seymour Eiseman, president of the congregation, Mrs. Raquel Bensimon, Senior Vice President and Mrs. Arlette Cohen, president of the Temple Sisterhood. When the royal couple entered the sanctuary they were honored by the blasts of six shofroth (rams horns) led by Cantor Isaac Behar and a jubilant congregation singing Havenu Shalom Alehem. It was for all a new page of history in the making. The Sephardim had waited, sometimes with hope, sometimes with despair for five hundred years to witness such an event. It was the first time in over five hundred years that a Spanish monarch had visited a Jewish synagogue and all in attendance enjoyed every moment.
PRESENT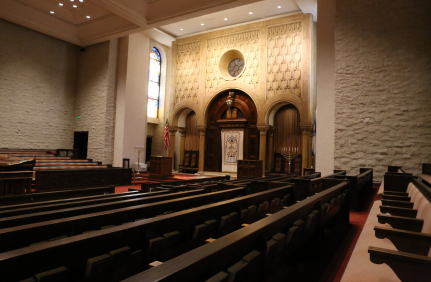 Sephardic Temple Tifereth Israel is a loving community with a wonderfully diverse congregation. We come together to pray, learn, sing, connect and celebrate. With activities for members of all ages, inspiring educational programs and moving religious services, we create a warm and inviting atmosphere to explore and cultivate your connection to Sephardic traditions. Welcome to your Sephardic family. Welcome home.