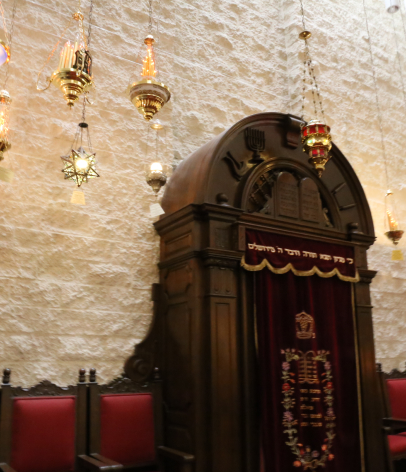 A Beautiful Space to Worship, Grow and Connect
With exquisite stained glass and architectural details, we are blessed to have one of the most spectacularly beautiful synagogues in Southern California. Our sanctuary is also uniquely designed with the Tevah in the center, allowing our community to face each other during services. It's a reminder that when we're here, we're one.
The windows present a panorama of the odyssey of Sephardic Jewry from the glorious Golden Age in Spain to the settlement of the Sephardic Jews in Greater Los Angeles as reflected in the religious institutions they established and their dedication to the perpetuation of their rich, centuries-old culture. The panorama also notes the names of major Sephardic personalities who have made lasting contributions to the spirituality of the Jewish people in all ages and throughout the world. They are one of the most dramatic and impressive of any stained-glass panels in California.
These magnificent stained-glass windows, designed by Raphael Abecassis, the renowned Sephardic-Israeli artist, were commissioned by the Maurice Amado Foundation, as a Living Memorial in honor of Dr. Morris and Regina Amado Tarica and dedicated January 24, 1994.