Notes from the Levy Library
NOTES FROM THE LEVY LIBRARY by Annette Goldsmith
Remembering the Shoah – column updated 1/27/23
International Holocaust Remembrance Day is January 27
Jacob Richman maintains a very rich site of Jewish links, regularly updated. Check out his page for International Holocaust Remembrance Day. You will find survivor testimonies, video clips from ceremonies in Israel, documentaries, and more. For example, below is the first day cover of a 2013 Israeli stamp called Flags over the Ghetto, to commemorate the 70th anniversary of the Warsaw Ghetto Uprising, April 19-May 16, 1943. It is now 80 years since the uprising that is the best-known example of Jewish resistance to the Nazis.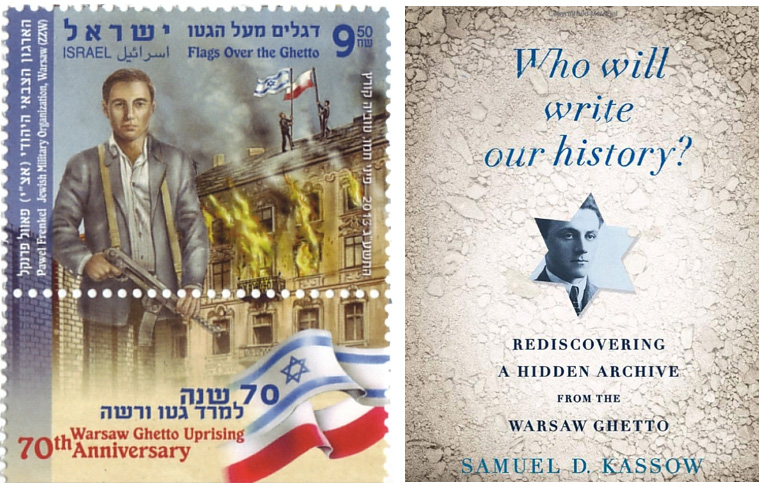 Did you know that within the Warsaw Ghetto archivists were documenting their daily life and burying the papers, photos, diaries, etc. so that after the war the record of what truly happened would be available to the world? Samuel Kassow's Who Will Write Our History?: Rediscovering a Hidden Archive from the Warsaw Ghetto is a fascinating account of that courageous effort. Ask me for it.
There is also an excellent 2019 documentary of the same name based on Kassow's book. Here is the trailer (2:12 minutes).
One Hundred Saturdays: Stella Levi and the Search for a Lost World
One Hundred Saturdays, Michael Frank's biography of Holocaust survivor Stella Levi, deserves special mention for a number of reasons. It is the winner of multiple awards and counting, with the latest being in two National Jewish Book Award categories: Holocaust Memoir and the Sephardic Culture Mimi S. Frank Award in Memory of Becky Levy. But for the congregation it is important to know that Stella Levi is our own Rae Cohen's cousin! Stella grew up in Jewish Rhodes, experiencing both its glory days and its destruction.
This book was the result of many conversations between Stella and the author, who became close friends – the title refers to their meetings over six years. The light-filled illustrations are the work of Maira Kalman, an artist whose work was showcased at the Skirball Center a few years ago. This is a book to savor for many reasons!
Second Sunday Book Club – Feb 12, 1:00 p.m. in Zoom
In case you're new to this newsletter, the Second Sunday Book Club is a no-stress monthly book club for STTI adults and friends – we talk about whatever we are reading, Jewish or not, for an hour or two, depending on how many people attend. It's fun! Email me at library@sephardictemple.org to rsvp and I will send you the Zoom link. Our next meeting is on Sunday, February 12 at 1:00 p.m.